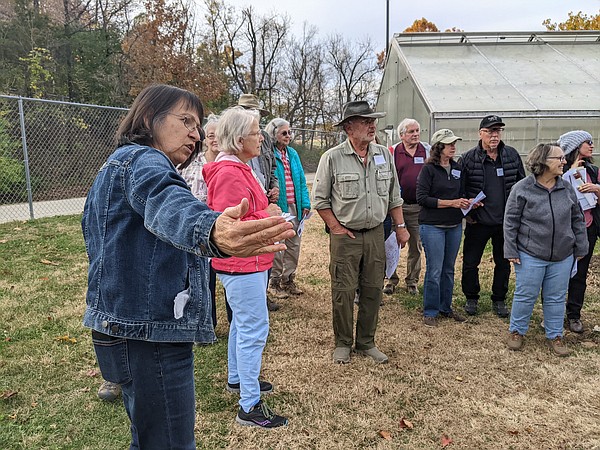 LU showcases native Missouri edibles with open house
About 50 people explored native edible plants and their uses Thursday night at Lincoln University's FINCA EcoFarm.
Interest in specialty crops and native plants is booming, said Nadia Navarrete-Tindall, a specialty crops expert who organized the open house.
"It's just amazing to me how many people are jumping on the same bandwagon," she said. "Like 20 years ago, I can see a big difference. Even in a year, I can see how excited people are."
The Navarrete-Tindall and Lincoln Specialty Crops Program invited students, faculty, staff and community members to visit the campus Finca EcoFarm and sample edible plants native to Missouri.
Finca refers to a very diverse small farm in Latin America. At Lincoln, the FINCA program – Families Integrating Nature, Conservation and Agriculture – focuses on sustainably growing native plants as crops on small plots of land.
The FINCA EcoFarm campus, approximately one acre in size and located around the teaching greenhouse, grows more than 40 native edible plants, including fruits, perennial greens, flowers, tubers and vegetables. other plants for pollinators. The university has been harvesting native plants to eat for years and developing countless recipes along the way.
Thursday's tour included taste tests of pesto and golden glow spread, artisan dittany bread, wild plum leather, preserves and coffee cakes, spiced persimmon cookies, pickles, plumade (lemonade made from plums) and mint tea.
Lincoln has hosted tours of its FINCA EcoFarm in the past, and they happened regularly before the COVID-19 pandemic.
"Last year we had another FINCA tour but there was less to show," Navarrete-Tindall said. "But now, after a year, we've had all kinds of additions."
For example, bergamot, a wildflower growing outside the educational greenhouse, can be used as a spice or for tea, Navarrete-Tindall pointed out. It's also good for pollinators, she says.
Navarrete-Tindall started the FINCA program at Lincoln a decade ago with the financial support of federal grants. Between 2012 and 2017, the university built three pilot finca farms: one on campus and two in the Bootheel, one of the main areas where LU has focused its agricultural extension efforts.
She received a nearly $50,000 grant from the state last year to teach Missouri residents about native and perennial green vegetables, such as nettles, wild leeks, wild onions, mints, herbs cups, cattails and golden glows. Grant money has also been used to host "Dining Wild" dinners, in which each dish is prepared with at least one native plant.
Besides sharing her expertise, Navarrete-Tindall said the open house is a good opportunity for her to learn from other farmers and planters.
Urban farmers tend to be particularly interested in native edibles, Navarrete-Tindall said, because they can grow crops with little space and sell the produce at farmers' markets.
Thursday's event also featured agricultural student groups.
Minorities in Agriculture Natural Resources and Related Sciences (MANRRS) prepared Callaloo with leafy greens native to Africa and the Caribbean and green peppers.
Both plants used in the dish were grown in the FINCA EcoFarm International Garden. The group of students demonstrated plants at different stages of development as well as best practices for soil type and pest control. Fresh, frozen and sautéed samples were available.
Laila Barnes, MANRRS Lincoln chapter president, said promoting native plants is becoming increasingly important. Barnes, a sophomore from Gary, Indiana, never grew up around farming or ranching and said it was amazing she could pick something straight from the garden to to eat.
"As a 19-year-old black girl who comes from a city and wasn't raised around these things, it's kind of cool for me to see," she said. "Just see that farming and farming is really the basis of the world."
The FINCA EcoFarm is a small area, but native plants can thrive in the gardens. Some even grow better in shade, Navarrete-Tindall said.
"I just want to show people that they can do it in their own backyard," she said.
"I'm excited to share what we know and hope people can adopt something into their homes because we need to think about pollinators and wildlife," she continued. "We have to create a habitat for them."
Navarrete-Tindall said the headlines surrounding the monarch butterfly have made people think more about the environment and conservation practices, "and realize they can do something for themselves."
"Don't expect others to do that," she said. "Just join us."