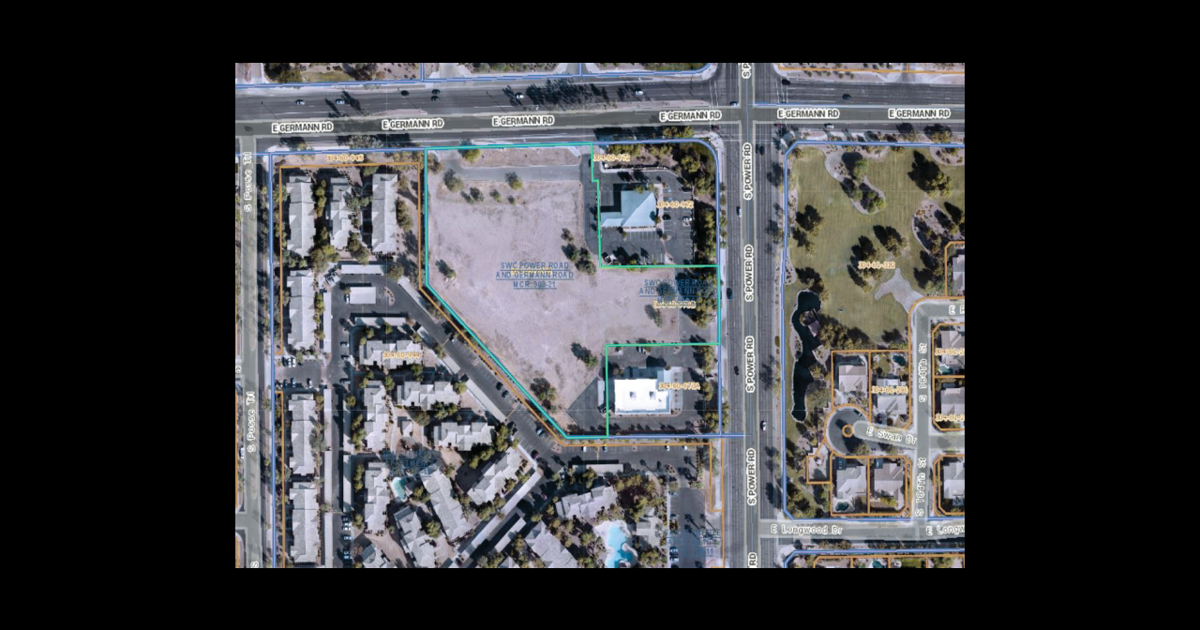 Hotel proposal angers residents |
A 122-room extended-stay hotel project on vacant 2.5 acres at the southwest corner of Power and Germann roads raised the ire of neighboring landlords last week.
On Nov. 2, the Planning Commission reviewed and approved the design for the four-story Woodspring Suites hotel, with nearly 300 locations nationwide. The commission also acts as a design review board.
"This hotel becomes a destination for the neighborhood where people would come and stay if they were doing business in the neighborhood or had friends living there and there was no room for them," explained Eric Gerster, of Sustainability Engineering Group.
Residents, most of them from the Power Ranch community south of the proposed site, did not purchase the land.
"It's just in an area that seems really out of place for a hotel," resident Matthew Webster said. "It seems rather snarky in the sense of why here and saying that 'oh, is it to visit families? Oh good? Like it's your only take? It just looks like we're going to be getting long-term illegals, maybe.
He said the developer can easily find a better place to put the project than in a residential area where the tallest buildings are two-story apartments to the southwest of the site.
Brian Litherland, who lives at Power Ranch, said he recently retired after 29 years with the Phoenix police and the hotel is an extended-stay facility that "would attract drug dealing, prostitution, trafficking in human beings".
He said that throughout his career he had worked closely with a number of long-stay facilities and, as an undercover police officer, "observed firsthand the extent of activity related to drugs, prostitution and other crimes that these establishments brought.
"They've always had the most complaints and service calls," he said. "Over the years we were able to close some of these overstays showing that they were criminal nuisances through prostitution stings, undercover drug dealing and confidential informants and eventually numerous warrants."
He said such establishments were not in a primarily residential area and added that he had driven to the other Woodspring locations in the valley and "they are mostly in commercial areas".
"Do you want this in your garden?" he asked the commissioners. "We don't."
Assistant City Attorney Alena Jorquez then reminded speakers that the commission was deciding a design review case and asked them to hold their comments on the matter.
Six other speakers spoke out against the hotel, saying it would bring more traffic and residents would lose the privacy of their backyards with a four-story hotel. In addition, 88 people submitted comment cards opposing it.
Joni Jorner, a 16-year-old resident and mother of three young children, said it was the first time she had heard of the project. "Four floors is not acceptable," she said. "We are not happy with what is happening and there are many of us here."
She said there were already four short-term hotels on Power Road, south of Warner and just north of Williams Field.
"This community is a small community," she said. "It should continue to remain a small community."
She then cited an April 2021 article in the Washington Examiner, where US Immigration and Customs Enforcement converted hotels into shelters for migrants crossing the border.
"One of those (hotels) included an extended stay at Woodsprings in Texas which housed 338 people," she noted.
The site totals 4.86 acres and has two developed buildings, a Chase Bank and an Auto Zone. The land is surrounded by the San Clemente apartments immediately to the south, the Cortina single-family home development at Queen Creek to the east, and vacant land to the north.
Two vacant blocks on the site are open for development in the future, according to planner Kristen Devine.
Devine said the hotel is a legal permitted use under the General Commercial Zoning, established in 1977 and amended in 2003. She said the proposal meets city requirements and staff recommends approval.
Commissioner Charles Johnson also questioned whether the site was the right location for the hotel.
"If I put on my site finder hat, there are four properties for this guy located around the valley, mostly next to highways, fairly close to highways," Johnson said. "It looks to me like you're setting up a hotel that's blocked off from the road, especially if the other two pads are developed. I'm a bit puzzled as to why you would drop this in this area where you're basically covered from street visibility and you're not in a place that's really accessible or suitable for that type of use or the hotel users. "
A rebuttal came from land use lawyer Paul Gilbert, who is representing the owner and developer, who is in the process of buying the land.
"Woodsprings Suites is a classy and well-known hotel," he said. "There is no record and no evidence has been produced that the overstays contribute in any way to drug addiction, prostitution and other things that we have been accused of. There is no evidence of this. We are a great company and we deserve to be treated as such in this forum."
He then ticked off a list of those who stay at Woodsprings hotels – "travelling healthcare professionals, government employees, entrepreneurs, extended business trips, construction workers, professional development, continuing education, transitioning students, snowbirds, long-term guests for holidays and major events and conferences, family emergencies (and) medical care.
"I think you should give some deference to the fact that we know what we're doing and that we chose this site because it's an ideal location for our hotel," he told the panel. "We have the expertise, the experience and the background. We have selected this site which works for us and we have complied with all your requirements."
Commissioner Anthony Bianchi told residents the uses have been within the zoning in place for 20 years.
Acting President Noah Mundtsaid said commissioners were listening to residents' concerns, but had their hands tied. "We don't have the authority to dictate to a landlord who has this land use that they can't put it there because the land use code says the use is appropriate."
He said the commission can ask the developer to put a different roof or make other design requests, but "we don't have the authority to say you can't put a hotel here."
Commissioner Brian Andersen noted that under the city's land development code there was a provision that allowed for a legal protest against the design review, which would then send the matter to city council for the final word.
Jorquez confirmed that the committee's vote that evening was open to a call and that she would provide information to anyone interested in pursuing this option.
Commissioner Lesley Davis said she wasn't thrilled with the orange palette and asked for a condition to be added calling for creamy, neutral tones to better fit into the neighborhood.
Gilbert said the developer would be open to a color change.
"I don't think this is a good project for the region," Commissioner David Blaser said. "If there was Hilton or Marriott next door, I would feel much better."
He added that he didn't like the orange color on the exterior. He also asked if a motion could be made to deny the hotel based on the design and Andersen told him he would need a strong case for that to happen.
The commission voted 5-2 to approve the hotel's design on the condition that it must change the color scheme. Commissioners Johnson and Blaser voted no.