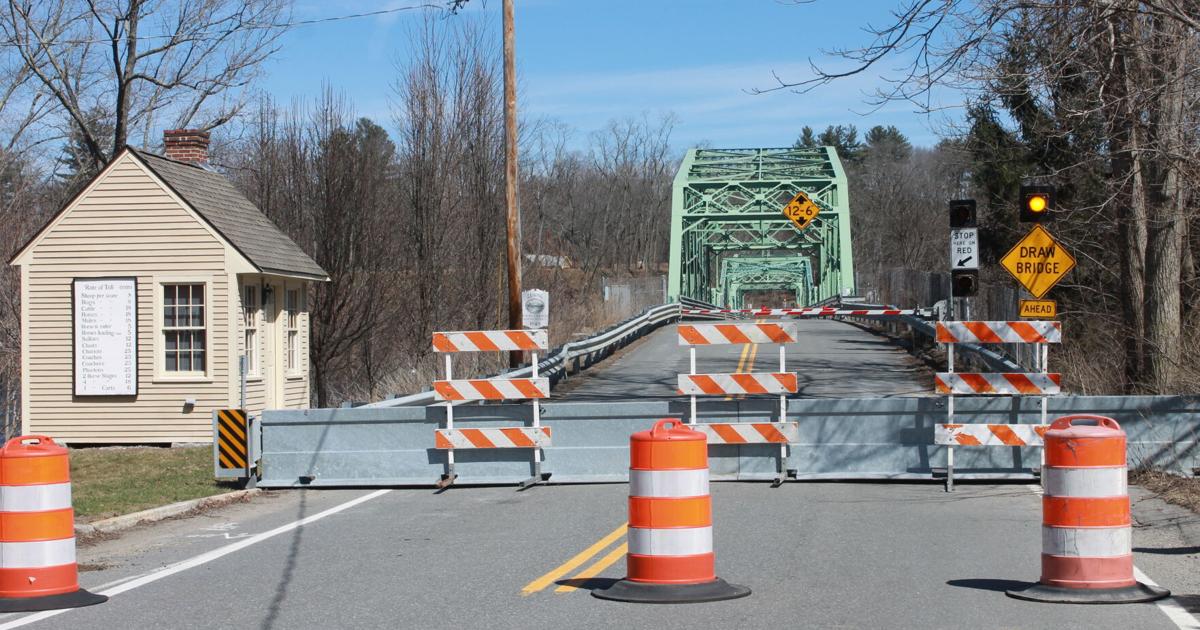 Haverhill frustrated with Rocks Village bridge closure | Haverhill
HAVERHILL – Councilors are frustrated by the closure of the Rocks Village Bridge, saying at their meeting last week that more needs to be done to protect the vital Merrimack River crossing that connects the town to West Newbury.
On the afternoon of March 17, a tractor-trailer that exceeded height limits attempted to cross the bridge, causing extensive damage to sections on both sides of the truss and to the lateral bracing connecting the two sides. The damage occurred at mid-span in the section that opens to boat traffic.
Following its closure, the state installed detour signs in various areas to help drivers find alternate routes. The bridge is heavily used by commuters from the communities of Merrimac, Haverhill, and southern New Hampshire, as well as schools on both sides of the river.
Councilor Melinda Barrett said truck speed and height warning signs had recently been installed but more needed to be done to prevent oversized trucks from crossing the bridge and damaging it again.
Councilman John Michitson said the state reopened the bridge in 2013 after a $14.1 million rehabilitation and "it looks like we're not doing a very good job of protecting that investment."
"The city council should write MassDOT and ask for a truck exclusion," Michitson said, adding that school buses and fire trucks should be excluded from such a ban.
Councilor Michael McGonagle said other similar incidents have occurred elsewhere.
"You look all over the news… stupidity happens," he said. "It's happening on Storrow Drive…it's happening."
Council voted to send a letter to West Newbury officials and Mayor James Fiorentini and MassDOT requesting a truck exclusion and to install signs on Route 110 in Haverhill and Route 113 in West Newbury warning of height restrictions and weight of the bridge.
MassDOT spokeswoman Kristen Pennucci said MassDOT will review the feasibility of additional treatments to minimize the risk of incidents like this happening again and that these additional treatments may include warning systems highlighting vertical clearance. maximum for the bridge.
Pennucci said a total truck ban is unlikely.
"A ban aimed at preventing trucks from using the bridge would be inconsistent with general Massachusetts laws governing the determination of the maximum load that a bridge can safely support," she said.
City officials were recently notified by MassDOT that a full damage inspection was conducted on March 20 to assess and confirm the full extent of the damage.
Pennucci said Monday that MassDOT received a preliminary repair concept from the consultant late Monday afternoon and it is being reviewed.
"While there is no current timeline on when repairs will begin and when the bridge can be opened to marine and/or vehicular traffic, MassDOT continues to work to restore the bridge to safe and full operation as soon as possible. she said, noting that the bridge is currently off-limits to vehicles that exceed the posted headroom of 12ft 6in.
Pennucci said a cost estimate for the repairs is not yet available and that any reimbursement of costs incurred by MassDOT for this incident will be pursued through MassDOT's accident recovery program with assistance from the office of the 'General Counsel.
St. Patrick's Day incident driver faces marked lanes and height restriction violations.