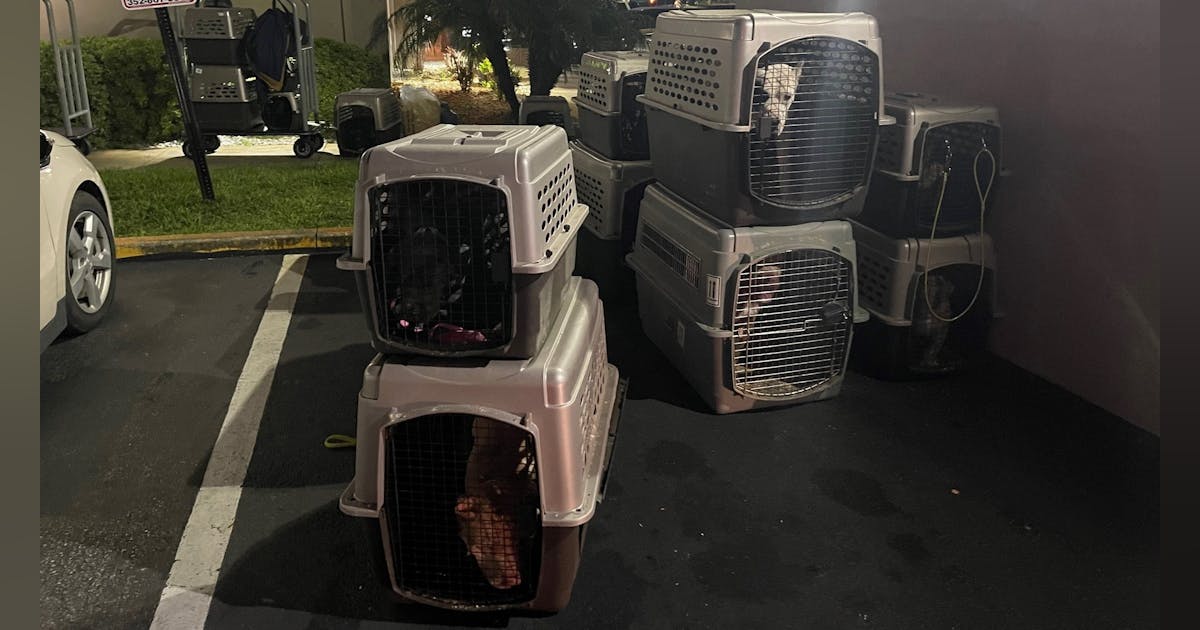 Florida police housed 17 frightened dogs in hotel after van crash
An accident involving 17 dogs took a surprising turn when responding officers decided to check the terrified dogs into a nice hotel for the night.
It happened around 2 a.m. early Sunday, June 5, at the intersection of South Pine Avenue and Southwest Fort King Street in Ocala, about 80 miles northwest of Orlando.
"The van was a dog carrier and was delivering multiple #dogs of all sizes to different owners across the United States," the Ocala Police Department said in a news release.
"The van was unusable due to damage and the transport drivers had no other means of transportation. … A plan was drawn up.
In the hours that followed, the "midnight team" of the service was able to find a hotel spacious enough to accommodate the drivers and the 17 dogs.
"Then a motorcade of patrol cars, including our negotiator ambulance, was assembled to transport them all to the local hotel safely until they could secure transportation the next day," the official said. department.
"No one involved in the accident was seriously injured and all dogs appear to be fine."
A photo shows the dogs arriving by ambulance before being taken to their rooms on luggage carriers.
It is unclear if they were also allowed to order room service.
The transportation service was operated by Retro K9, and the company thanked the police on Facebook, along with a note that the dogs were safe at the hotel.
Police did not say who is paying the hotel bill, but a fundraiser was launched on Sunday evening to help the company recover "unforeseen expenses" from the business.
Thousands of people reacted and commented on the police department's social media post about the incident, with many praising the officers for going the extra mile.
"Wow, I have tears in my eyes," posted Melissa Smyers.
"That's the sweetest thing I've read in a long time!" Wendy Nelson wrote.
"Great job of thinking outside the box," said Kristen Dreyer.
______
©2022 The Charlotte Observer.
Visit charlotteobserver.com.
Distributed by Tribune Content Agency, LLC.