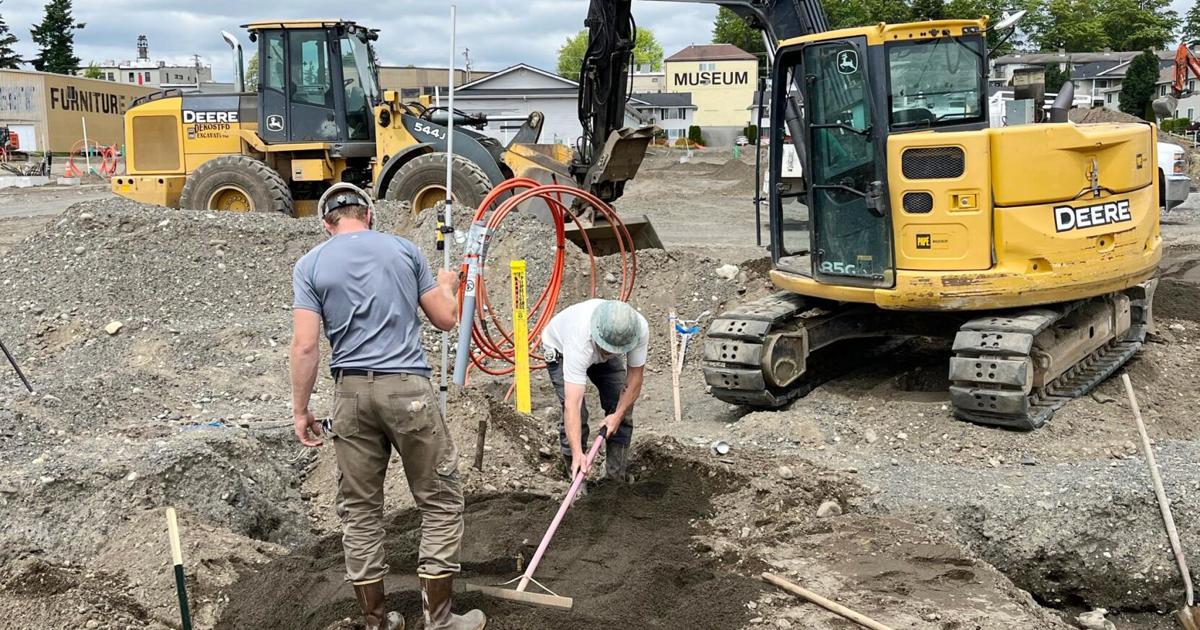 73 condos: the River Walk residential project is located between Judson Alley and Riverview Road | New
LYNDEN – Preparation action has been visible for months to realize the vision of a River Walk Homes project under downtown Lynden.
River Walk is a multi-phase condo development, which will have 73 units under full construction, which has received approval for its design concepts and is now awaiting building permit approval for the first eight units, Heidi Gudde said. , director of planning and community development. for the town of Lynden.
Developer Riverview Partners LLC, led by Brian Davidson and Shane Bajema, is setting up ground infrastructure on the 5.8-acre site between Judson Alley and Riverview Road.
On Monday, workers at subcontractor DeKoster Excavating Inc. continued to do "everything underground," including water, sewer, stormwater, electrical, lighting and more, they said. .
Bajema reported that he sees July bringing sidewalks and roads, then perhaps the first vertical construction can be evident in August.
The design set for the development shows a variety of compact floor plans of units typically 24 feet wide by up to 50 feet long, and two- or three-story building styles. The minimum garages are below the living space. The layout should make the most of southerly views towards the Nooksack River and farmland.
The promotion of the River Walk neighborhood indicates that it will encompass two types of communities. To the east, 43 homes "will appeal to ambitious and mobile young professionals, including first-time home buyers, investors and transient second home buyers." To the west, 36 residences will accommodate active adults aged 55 and over. The aim is to "emphasize community, pedestrian connectivity and impeccable views".
Gudde noted that since this development is in Lynden's historic South Business District, it is being assessed against City Council-approved goals for the area. "The primary goal here has always been to create higher density pedestrian-friendly housing whose residents will support and benefit downtown businesses," she wrote.
Although interior open spaces are reserved for residents, public pedestrian easements will allow pedestrians and cyclists to cross the site. Vehicle access will be from Riverview only.
Regarding the site's susceptibility to flooding, Gudde said Lynden has done extensive coordination with the Federal Emergency Management Agency and is reviewing the overall site plan and each building permit taking into account flood levels. .
"As buildings are started, each will be required to submit an elevation certificate from the project surveyor so that staff can verify that they both meet the starting elevations and do not exceed the heights of the building. described in the approved permit package," Gudde wrote.
The native peat soil several feet deep was removed from the site and replaced with more stable construction soils. However, that process was not complete when flooding last November reached Riverview Road and the project site, Gudde said. Additionally, all units are designed so that living areas are well above the flood elevation line, she said.
Bajema said the goal, when building the house begins, will be "to have a variety of designs around the property." Local company DJ & DJ Contracting will be the builder of the entire River Walk.
Bajema said he wanted "very high character, not oversized homes" that together form an attractive neighborhood that is a believable "gateway community" approaching Lynden from the south on Hannegan Road. River Walk should bring "a character to downtown that also energizes some businesses," he said.