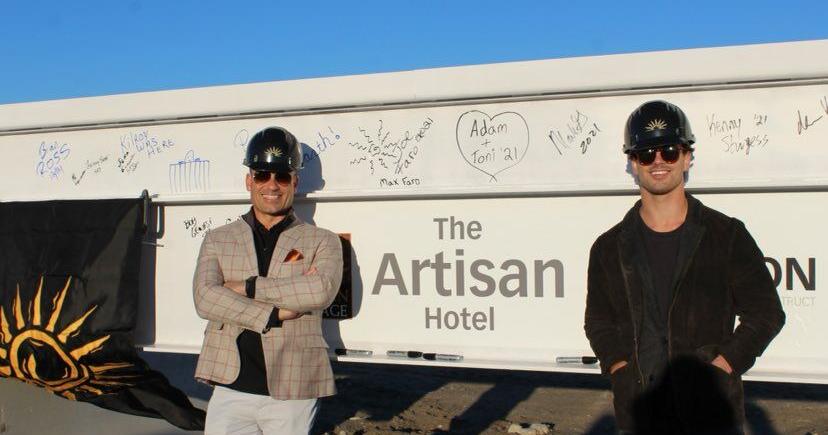 5-story building in progress in Tuscan village | New
[ad_1]
SALEM, NH – A possible focal point of the Tuscan village takes shape after a beam-raising ceremony on Friday.
New Hampshire Senator Chuck Morse (R-Salem) and supportive locals joined Tuscan developer Joe Faro and his team in celebrating this landmark event.
According to plans, the place where they met will be a 5-story building in the spring of 2023.
It will include a 165-room Marriott hotel, 91 luxury apartments with private underground parking, 30,000 square feet of retail space on the ground floor, a 12,000-square-foot reception and reception hall, a signature restaurant. 10,000 square foot Tuscany with expansive alfresco dining, rooftop bar, and pool and sundeck.
Before raising the beam, Morse said, "We're moving to downtown right now. It is the first building to rise in the city center. It sends a symbol to the town of Salem that is really making a difference, a sense of community, through Joe's efforts.
Faro commended Governor Chris Sununu, lawmakers and residents for their support. He is delighted, he said, "to reach this milestone in such a transformative and impactful mixed-use building in the heart of the Tuscan village".
Since 2017, the Tuscany team has been developing the 170-acre property formerly occupied by Rockingham Park. Faro's vision has been to transform it into a 4 million square foot regional mixed-use destination.
Today, nearly five years after acquiring the land, two phases of the Tuscan Village Project have taken shape, comprising well-known establishments – Massachusetts General Brigham, LL Bean, Nike, Williams Sonoma, Pottery Barn and more.
Approximately 1.2 million square feet of the project are planned for a life sciences campus. The specifics of the occupation of this space and a few others remain unknown.
More information, including a full store directory, is available online at tuscanvillagesalem.com.
[ad_2]